Short 3 days Mardi Himal Trek from Pokhara is the best trek for those who are looking to be at a higher elevation within short days. The mesmerizing beauty of this trail is the unique part and the changes in vegetation are just amazing. Although the 3 Days Mardi Himal Trek sounds amazing, it might be challenging if you are not familiar to hiking and trekking.
The 3-day Mardi Himal Trekking is a popular trekking route in Nepal. The Mardi Himal, the Hiunchuli, the Machhapuchhre, and the Annapurna South are surrounded by breathtaking scenery that change quickly from high to low. It took 4 to 5 days to complete the Mardi Himal Trek trek before it was discovered. We can still clearly recall how we first organized the excursion to Mardi Himal, which included tent camping or sleeping close to the shepherds. This location, which is close to the trekking path to Annapurna Base Camp, was little known to anyone. The majority of this trekking path region was once utilized as a sheep, yak, and buffalo grazing area.
Now that there is road connectivity to the side town where our trip would begin, the 3-days Mardi Himal Trek is feasible. The whole 5-days Mardi Himal Trek begins at either Pothana or Dhampus.
You must go to Pokhara in order to embark on the Short Days Mardi Himal Trek, so plan accordingly. Although there are other alternative short trek routes from Pokhara that we have highlighted, the short Mardi Himal trek with Rugged Trails Nepal is the most well-liked and popular trek from Pokhara. We will give you the Mardi Himal Trek Map and the hiking permits as soon as you reserve the trek with us. On this walk, many individuals forego trekking permits, but if you are caught by law enforcement or park rangers, you risk fines and/or jail time.
Just let us know your itinerary and we'll make the necessary arrangements for the Mardi Himal Trek to last for 3, 4, 5, or more days with a homestay.
Why is the 3 Days Mardi Himal Trek popular?
Because of the view! We will quickly reach elevations of 4,200 to 4500 M without becoming unwell. Even a mild headache is not a severe issue. Although it's only a number, the vista from the Mardi Himal hike is simply amazing. Check out photographs on Instagram, Facebook, and YouTube videos for views; you'll really adore it. Almost all of the Mardi Himal landscape may be found on Nepalese social media. If you are photographer and looking for beautiful landscapes and snow capped mountain pictures with sunrise and sunset then you will love this. We decided to embark on a yoga trek to Mardi Himal because the trail is so serene and gives such beautiful vistas.
How Long is Mardi Himal Trek?
The ideal trip for Mardi Himal takes place over the course of five days if you want to make your journey simple and enjoyable. But if you just have a short amount of time and want to see more of Nepal, the 3 day Mardi Himal trek is another option. The whole 10-day Mardi Himal Trek package includes lodging in all hotels in Pokhara and Kathmandu as well as guiding and transportation.
How Difficult is 3 Days Mardi Himal Trek?
In the Annapurna area of Nepal, the Mardi Himal trek is a moderate hike. Due to the height, the path from High Camp to the viewpoint is fairly difficult and long, but otherwise it is simple. While the rest of the section is simpler, the ascent from Sidding to Badal danda or the descent from Low Camp to Sidding is another phase that is fairly challenging for those who have problems in their knees. The 5 Days Mardi Himal trek distance is almost 57 Km from Pokhara.
Which Month is the best for Short Mardi Himal Trek?
Except during the monsoon season (June, July, August, and mid-September), which is rather uncomplicated, you may come at any time to trek to Mardi Himal. Only the leeches will be annoying even when the weather is clear. If the weather is favorable, the monsoon will also be enjoyable because of the greenest hills and rainbows. Some people claim that winter is bad, but we believe that the winter walk to Mardi Himal is one of its greatest features. Due to the tremendous snowfall, we may not be able to reach the summit, but even so, the view will be breathtaking. Come along if you like to hike in Nepal and enjoy snow! View a winter walk in Mardi Himal on YouTube.
This route is wonderful to stroll on in the springtime because of the vibrant rhododendron woodland. The surroundings are also lovely. No other hike allows you to get a closer view at Mt. Fishtail in such a short amount of time. Other attractions of this walk include the alpine peaks of Heuchuli, Annapurna South, and others.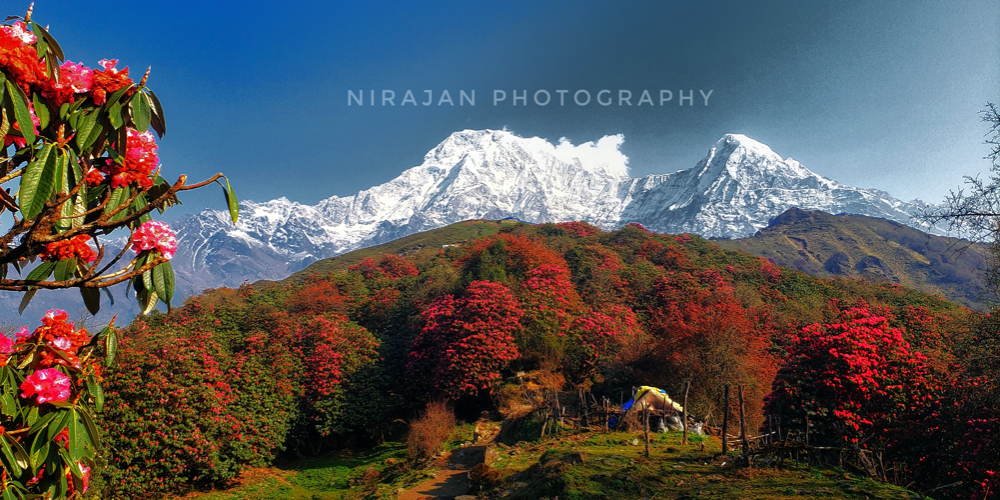 How High we will go on Mardi Himal Trek Itinerary?
The Mardi base Camp is located at 4,500 M, while the viewpoint is at 4,200 M (13,779 ft) in elevation (14,763 ft). Therefore, if we travel to the Mardi Himal Base Camp, the maximum height of the Mardi Himal walk is 45,00 M. Remember that the Mardi Viewpoint at 4200 M offers a breathtaking perspective, therefore reaching Base Camp just entails touching Mardi Base Camp.
How about the food and accommodation on the 3 days Mardi Himal Trek?
Although we cannot promise you a stay in a five-star hotel or a meal at a fancy restaurant, we can promise you will forget about these things for a few days. You may order tasty meals from the menu, including pizza, pasta, Nepalese, and Tibetan dishes. The dining area will be warm thanks to the conventional heating system, and the rooms will be tidy and clean with cozy blankets. You can check our reviews on google, TripAdvisor if there are any complains about the food and our services.
How much does Mardi Himal Trek cost?
The price of a trip may vary depending on the size of the group and how long it is, but a 3-day Mardi Himal hike starts at $300 USD. We also provide a group departure journey for the Mardi trek, so if you're traveling in a group, the cost will be determined as follows. We offer a private trek for you to Mardi Himal so you may enjoy your vacation without hustle. You do not need to join or be in a group to trek to Mardi Himal.
How do I go from Kathmandu to Pokhara?
From Kathmandu you can take 25 minutes Himalayan flight or 6 hrs scenic drive. We arrange flight tickets and the ground transportation on request. We are hoping that starting on January 1 2023, direct flights will be available from Dubai, Delhi, China, and a few other nations so you can make travel arrangements if you want to fly directly to Pokhara.
Two distinct trek routes have been mentioned for the three-day Mardi Himal Trek; one is from siding village and the other is shown below. Usually, we arrange a 3-day Mardi Gras excursion starting from a siding village; you choose whatever option is appropriate for you.
3 days of the Mardi Himal trek for Indian and Nepalese nationals will cost 21,000 NPR (minimum of 2 people required). Meals and plans will be predetermined.