When considering a trek many things spring to mind, two in particular, level of fitness and the time people have available. Today we focus on a fabulous 3 days trek in Nepal for folk who are either on a tight schedule or who want to spend some time in the hills but also want to discover all the other minor miracles Nepal offers.
In recent years, most American (USA), Indian, Thai, and Asian visitors have joined us for the 3-days trek / hike in Nepal. We recognize that the world is vast and that people want to see as much of it as they can. Three-day hikes are more common among college and high school students in Nepal. Rugged Trails Nepal has been organizing unique treks and tours with international schools and universities in order to exchange Nepalese traditions. When people hear 14 days Everest Base Camp, 19 days Annapurna Circuit, or Base Camp, they wonder what they can experience from a lower elevation. However, you will see a lot and will not be disappointed, how we will explain below.
Why pick a 3-day trek in Nepal from Kathmandu / Pokhara?
Short 3-days treks in Nepal are often undertaken at lower altitudes and do not rise over 3500 to 4000 m. Altitude sickness is quite unlikely, however it depends on the area. The main worry when trekking in Nepal is dealing with AMS, therefore it goes without saying that we need to get ready before climbing higher. But if you're determined to make it happen, nothing can stop. Many claim that you will enjoy the trek without suffering headaches, nausea, or shortness of breath. However, this is not a health issue but the perfect plans for beginners and for those who are looking best easy treks in Nepal.
Why Kathmandu and Pokhara for the 3 days treks in Nepal ?
You only have a short amount of time, and secondly, Nepal's 3-Day treks are quite reasonably priced. The final option is to organize a weekend excursion in Nepal. Why do you think I said a weekend excursion in Nepal? Because of the excellent and flexible flight connections from Dubai, Thailand, India, Turkey, Malaysia, and Hongkong. Although 3 Days Treks in Nepal from Kathmandu is currently a well-liked travel package, it will be simpler to conduct treks from Pokhara once international flights begin to fly there. Everyone must now go to Kathmandu before boarding a different local aircraft to Pokhara. On January 1, 2023, Pokhara International Airport will open for business.
3 Days Treks in Nepal and why?
Exploring the Himalayas in a short period of time is a blessing in and of itself, and the breathtaking scenery adds to the attractiveness of these treks. During these three days, you will witness a variety of mountain, valley, and landscape scenes. Almost many trekkers desire to visit the snow-capped mountains and the heart-warming Nepalese people, that you could see and enjoy in a short period of time. Kathmandu has scores of world historic monuments, as well as a distinct culture and festival. After leaving the city, you will experience the different lifestyle of the rural people and become a part of their culture for a day or two. Is there anything missing from the three-day trek?
How difficult is the 3 days Nepal trekking itinerary?
The first thing to realize is that Nepal is not flat, and there are no treks where you may walk on level country. The global hiking guiding guidelines of ascending and descending, just around the corner, 15 minutes more, nearly there will also apply in Nepal. Normally, we include simple three-day trekking routes in Nepal. Some treks are moderate in difficulty, depending on the route, itinerary, and time of year you want to trek in Nepal. On this three-day trekking schedule, you will have plenty of time to rest and can travel with your family and children. By driving or modifying the trek path, all of the renowned trekking routes are made shorter and simpler.
3 Days Treks in Nepal by Month!
The best season to trek in Nepal is usually spring, to put it simply. Rhododendron blossoms will be vibrant, the sky will be clear, and the Himalayas and other mountains will have more snow covering them. I strongly advise traveling to Nepal in the spring if you are a photographer or are organizing a wedding picture session there. Rhododendron trees and obviously the massive mountains will be encountered primarily at lower elevations; see the image below. ASK YOUR FRIEND IF SOMEONE HAD TRAVELED TO NEPAL DURING THIS TIME. "It's not photoshopped" it's true. For three-day hikes in Nepal, March, April, May, and October, November, and Mid-December are the best months to visit.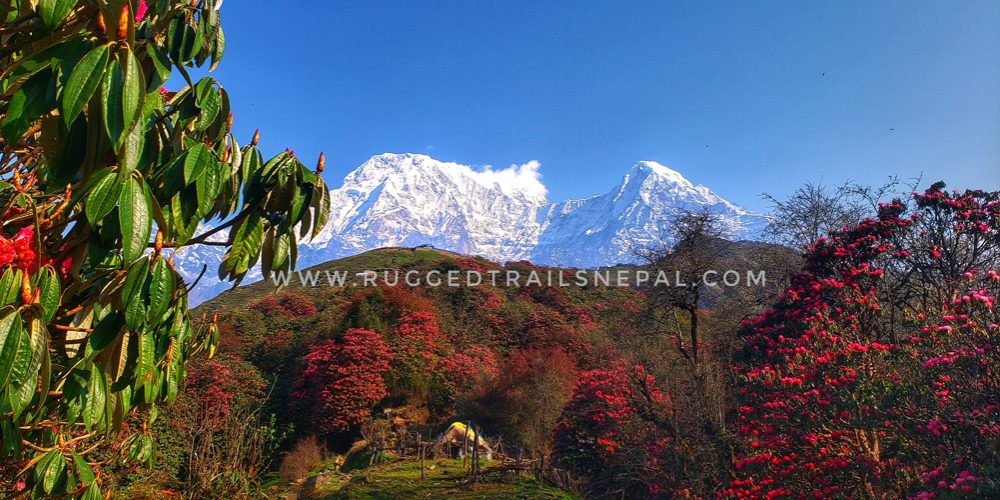 June, July, August, and mid-September are monsoon months, but because I travel with lenses and cameras, I like to trek during these months because of the lush vegetation and shifting clouds. Imagine the rainbow appearing after a rainstorm and having a clear view of snow-covered mountains. Nobody wants to see clouds, leeches, or walk in the rain, but if you have no other time to travel to Nepal, you may as well give it a shot.
How much does it cost to hike in Nepal?
If you want a well-planned holiday, trekking in Nepal is more expensive than you may anticipate. Some individuals claim the Everest Trek is cheap for marketing purposes, so consider twice before signing up. Obviously, you will save money if you go alone with basic amenities, without guides or porters. Traveling alone offers numerous advantages as well as some disadvantages, such as loneliness, language barriers, and safety, however it sounds safe to go in Nepal. Therefore, the price of a climb including meals, lodging, a guide, and porters can range from 70 USD to 120 USD depending on the region, standard, and the duration of the route.
Are there any other suggestion besides 3 Days Nepal Trek ?
It's likely that you are not interested in trekking packages or that the suggested schedules don't work for you. For this reason, you may send us a brief email and we'll tailor a 3-day itinerary to Nepal that includes short day hikes and sightseeing trips. You might choose a single day's worth of hiking or trekking to get a taste for the sport. Please let us know if you would want a 2 night, 3 day, or 3 night, 4 day tour itinerary with rafting, jungle safari, and homestay tour.